Onze volgende Meadows-Hale BDS (Business Development Seminar) vindt plaats op 12 mei 2018 met gastsprekers uit Litouwen:
Platinum IBO's Liana & Rimantas Brazdeikiai.
Upline diamant – Daina en Zhilvinas Elvikiai, Krystina en Jaroslaw Maksymowicz en Hanna en Don King.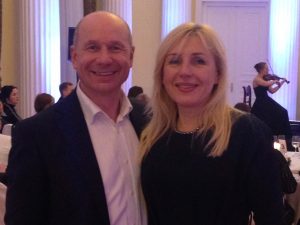 "Wij komen uit Litouwen, zijn in 2005 gestart met onze zaak.
Liana is psychologe. Ze is nog steeds praktiserend en werkend aan de universiteit als docent. Rimantas heeft meerdere en verschillende functies gehad van havenarbeider tot manager, nu is hij een fulltime Amway-Business Owner.
We zijn onze upliners dankbaar voor hun geloof in ons, en voor de begeleiding die ons helpt. We zijn simpele mensen zonder kennis van zaken doen of hoe we daar voordeel mee kunnen uithalen.
We houden van en zijn dankbaar voor het leersysteem dat mensen – betere mensen maakt en helpt je een persoon met integriteit en met normen en waarden te worden."
BDS Locatie:
GOLDEN TULIP JAGERSHORST EINDHOVEN
Valkenswaardseweg 44
5595 XB Leende
Tel: +31 40 2061386
Kaarten te verkrijgen via upline (tot 13 april) a € 25,-
Kaartprijs na 13 april en aan de deur – € 30,-
Programma (onder voorbehoud):
14:00h – 14:30h – Planningmeeting (Platinums / Eagles)
14:30h – Main Session – Deuren open
15:00h – 17:00h – Sessie 1
17:00h – 18:00h –Pauze
18:00h – 20:00h – Sessie 2
Tijdens de pauze is er gelegenheid een hapje te eten voor slechts € 15,- p.p. Soep van de dag, Warme snack, Assortiment belegde sandwiches/broodjes, Koffie, thee, melk, vruchtensappen. Betaling voor het buffet bij de receptie van het hotel, voor aanvang van het seminar.
Graag vernemen we of je hier gebruik van wilt maken.
* Franse vertaling beschikbaar over FM radio, vergeet u headset niet!